Total Ankle Replacement
What is a Total Ankle Replacement?
Total ankle replacement has become an increasingly utilized orthopedic procedure for patients with advanced ankle arthritis. Patients who have suffered with significant pain and decreased mobility gain relief and experience renewed mobility in their lives. Patient testimonials have been enthusiastic, and research has shown reliable improvements in outcome and patient satisfaction scores following total ankle replacement. The Reno Orthopedic Center's own research studies have supported these findings.
A total ankle replacement is very much like a total knee and total hip replacement.  We replace the end of the shin bone (tibia) and the top of the foot bone (talus) with a metal cap.  A plastic spacer goes between the two metal components and allows for motion through the ankle joint.
Total ankle replacement is a technically demanding procedure. Research supports and emphasizes that this current success is attributed to improved surgical techniques used by properly trained experts in orthopedic foot and ankle surgery. Selection of an advanced orthopedic surgeon for this procedure is crucial to obtaining the best possible result.
Reno Orthopedic Center's Total Ankle Replacement Program
The Total Ankle Replacement program at The ROC Foot and Ankle Center was established in 2010. The program requires advanced surgical training in the use of the Scandinavian Total Ankle Replacement (STAR®) device, which is the implant of choice for The Center's program. Used initially in Europe and approved in the US in 2009, the STAR® device has over 30 years of proven reliability in treating patients with severe ankle arthritis. Research shows a 92% survivorship (prosthesis life) at 10 years. Its technical design as a "mobile bearing" device gives it the distinction of most closely matching the natural design and movement of the ankle joint.
Our surgeons are also well versed in other total ankle systems including the Wright Medical Inbone® and Infinity® total ankle systems as well as the Zimmer Tabecular Metal® total ankle.  When appropriate for our patients, these systems may be recommended.
Since beginning our total ankle program, ROC orthopedic foot and ankle surgeons have implanted well over 300 ankle replacements.  Our internal evaluation has demonstrated a survivorship approaching 97%.  Our surgeons have published multiple research papers and presented at local and international meetings related to total ankle replacement.  ROC foot and ankle surgeons also regularly teach total ankle replacement principals and techniques nationally to other surgeons.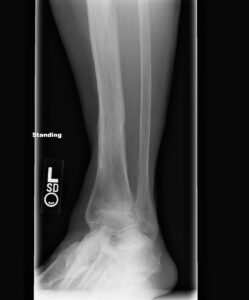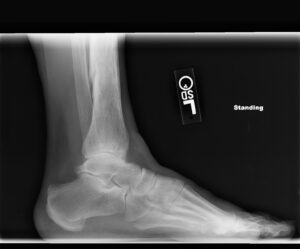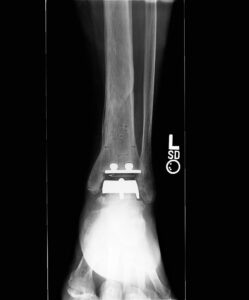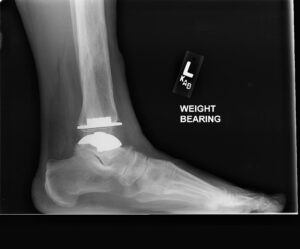 Schedule a Consultation
Learn more about Reno Orthopedic Center's renown Foot & Ankle orthopedic surgeons or schedule a consultation at a location near you.