Shoulder Replacement
About Shoulder Replacement Surgery
Shoulder replacement surgery is done to relieve pain and other symptoms that result from damage to the shoulder joint. A shoulder replacement removes damaged cartilage and bone and replaces them with implants made of metal and plastic. Shoulder implants include many different sizes and shapes to best fit your anatomy.
Why would someone need a shoulder replacement surgery?
Osteoarthritis – this is an age-related "wear and tear" type of arthritis
Rheumatoid Arthritis and Other Inflammatory Disorders – inflammation within the joint can cause damage to the cartilage
Rotator Cuff Injuries – a chronically torn rotator cuff can lead to arthritis of the shoulder joint
Fractures – certain types of fractures involving the top part of the humerus require a joint replacement
Osteonecrosis – this is when the blood supply is decreased to the humeral head
Are there different types of shoulder replacement surgeries?
Orthopedic Surgeons at Reno Orthopedic Center (ROC) who perform shoulder replacement surgery use the latest technology and implant advances available. You can be assured that ROC surgeons will be up to date on the current techniques of shoulder replacements. Depending on the type of joint damage you have, one of the following shoulder replacement options may be recommended.
Anatomic Total Shoulder Replacement. The ball and socket are both replaced in the normal position.
Reverse Total Shoulder Replacement. The ball and socket are replaced in the reverse position. The ball is attached to the shoulder blade and the socket is attached to humerus. This is only done if the rotator cuff is chronically torn and irreparable. The design of the prosthesis allows a functioning deltoid muscle to take over the role of the rotator cuff. Although this procedure doesn't make your shoulder "normal" it can greatly improve the function and reduce or eliminate shoulder pain.
Total Shoulder Replacement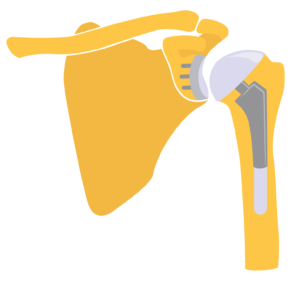 Reverse Total Shoulder Replacement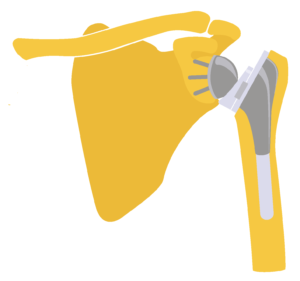 How long does the surgery take and what is the recovery time?
A shoulder replacement surgery typically takes around 1 to 2 hours. Patients typically receive a nerve block by your anesthesiologist and then undergo a general anesthesia. The nerve block will help control your pain after surgery when you wake up. Most patients can go home the same day of surgery. Full recovery can take up to 2 to 3 months or longer, but most patients are relatively symptom free at 1 to 2 months.  Once recovered, many patients can return to an active lifestyle. Approximately 50,000 people will have a shoulder replacement every year.
What are alternatives to shoulder replacement surgery?
Non-steroid anti-inflammatory drugs (NSAIDs)
Physical therapy
Steroid injections